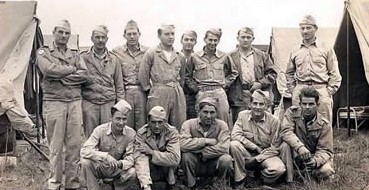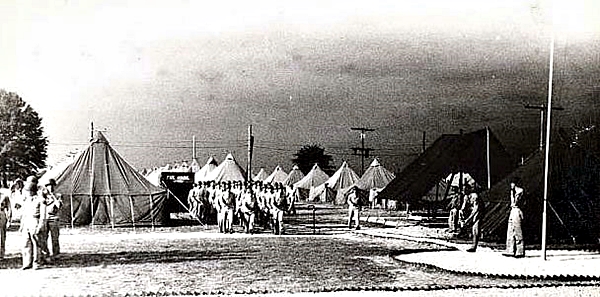 POWs marching to work in the morning.
The World War II era of 1944-46, is one of the most interesting time periods in Austin's history.  During this time much of America faced great economic challenges to stay afloat, as Hitler's German Army was a threat to the entire world.  Austin was no exception and the Morgan Family was concerned how their factory Morgan Packing Company would stay in operation.  It had been many years since the company and the town of Austin faced such dire economic circumstances.  One problem was a depleted work force, most young men were sent off to defend the United States. In order to keep the cannery in operation I.C. Morgan sought profitable government contracts, which included making food for the Armed Forces.  He lobbied as many political powers as he could, and eventually the company was awarded a huge contract.  He was still faced with finding enough people to staff the operation.  A lot of women from the community were already working at the plant, and the company's efforts to recruit employees across five Midwestern states were futile.  All men available were serving their country, and there wasn't anyone to fill the jobs Morgan Packing had available. I.C. Morgan once again turned to the government, and that era of Austin's history is one of the most interesting pieces of history, of any community our size in America. 
As the war escalated Prisoners of War (POWs) were sent to the United States and in some cases the POWs were loaned out to companies who had been granted government contracts.  Morgan Packing Company was one of those companies, and under the guard of the United States Army more than 1,500 German and Italian prisoners were stationed in Austin. Along with those prisoners were hundreds of armed U.S. Soldiers all stationed together in what the government called Camp Austin.  The camp was located north of Morgan Packing Company adjacent to company property.
Letters from former German POWs to Morgan Foods
In a letter to John Morgan in the 1980s, Johann Reitner recalled his days at Camp Austin. Noted below is Dinnen's report of Reitner's life as a POW in Austin. The Reitner story is followed by a letter written to John Morgan also in the 1980s, from Herbert Fischbach another German POW.  
Johann Reitner – German POW Story – Camp Austin Indiana – Source: Stephen P. Dinnen report, 1993:
"'I think I was not too much a hero since I was caught sleeping in a bed,' Reitner wrote nearly 50-years later. He went to England, then was shipped to New York and from there went to Camp Breckinridge, Ky. A month later he joined the workforce at Camp Austin, as the POW barracks was called, and worked there for 18 months. Reitner recalled that they first slept in three-man tents, and then they moved to ones able to accommodate twice that many people. They had small stoves, and plenty of coal for heat, and he remembered whiling away spare time playing cards, reading or playing soccer, for which there was a camp tournament."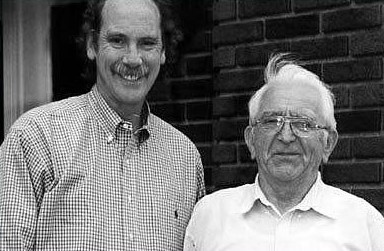 John Morgan (left) and Johann Reitner (right).